Sunday June 2nd – 10:30 A.M. 1935
February 1, 2022 § Leave a comment
I am looking at the pile and there is only one more letter left to transcribe. Okay, there are more letters, but this group is coming to an end, and fortunately there is one from Vivian which will be transcribed shortly.
So, a little peak into their world. Or maybe Elvin's perception of the world. Marriages are "nighttime" marriages. What happens during the day? Elvin seems to believe they will have a daytime marriage as well which seems to imply there will be contact during the day. It won't be a "Leave it to Beaver" sitcom where Elvin departs in the morning leaving poor Vivien to handle the home and the kids until he returns in the evening looking for his dinner, his pipe, and his paper. We shall have to see how the rest of what I have plays out.
The envelope of this letter has some "extras". "5-2-7th-350-2-go" Which means 5 days to the 7th, then 350 miles to drive (go). On the back is "Watch for N.J.-H-38781-'35" which I believe is the license plate for Elvin's vehicle. For example.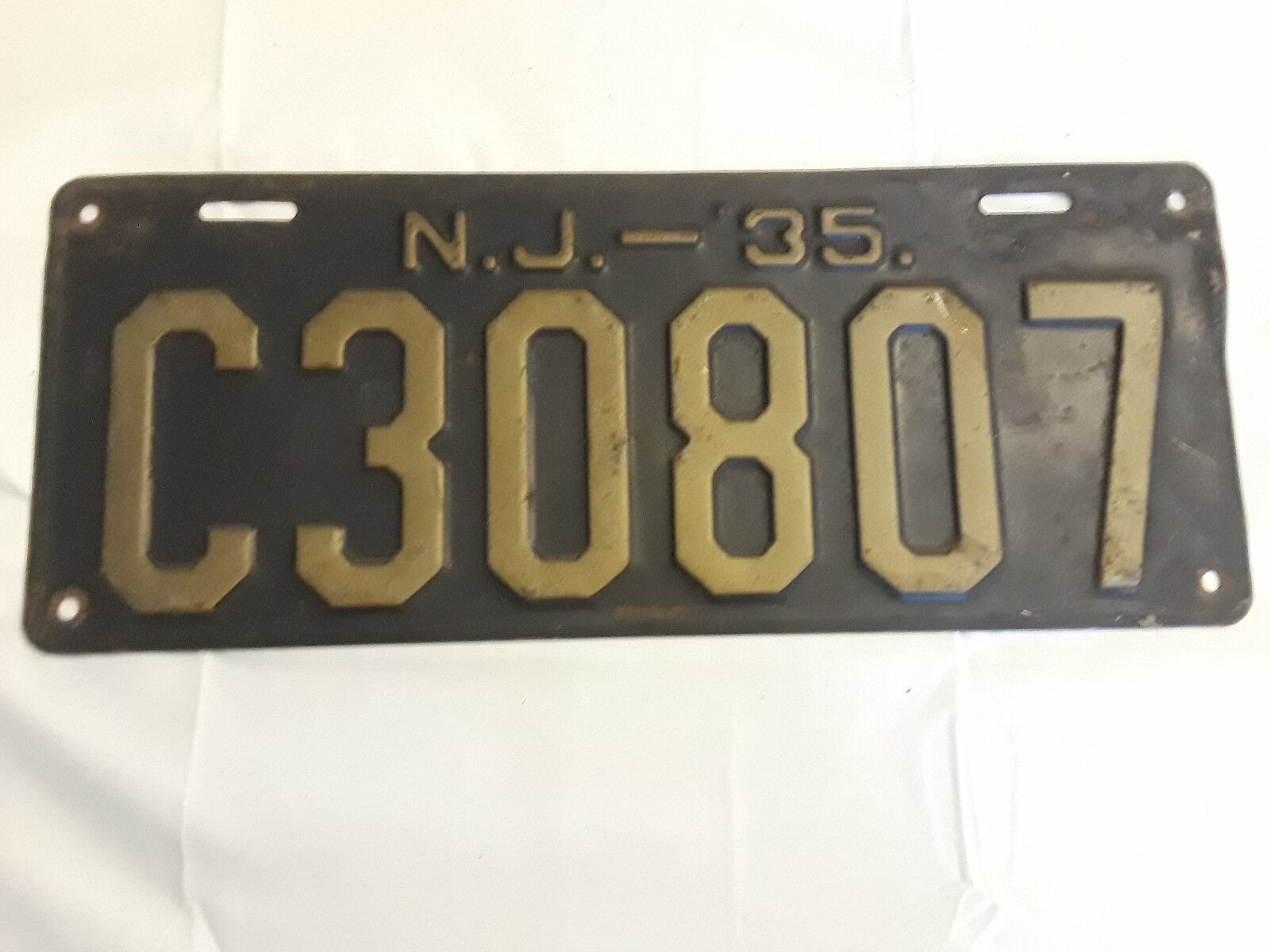 Dearest Vivien,
Next Sunday we'll be galloping around together. The days have been ticking away with a very encouraging regularity. Likewise, this is one of the last letters. The Tuesday night letter will be the last to be sent to Canton. I've gotten quite a kick out of writing these letters and receiving those from you. Our collection should form a good diary of our hopes, loves and actions during this past year.
It is a beautiful day outside darling. I'm going to wear my linen suit for the first time this year. I just brought it back from the plant all clean, white and pressed. It looks good and it is going to feel good to wear it.
Yesterday I played 36 holes of golf and now I am sporting a good coat of tan. I shot a 91 and a 93. I'm going to play golf with you after this so that was one of the last games with the boys this year. Last night I stayed home and performed a complete cleaning job on myself. Then I went to bed about 10:30 P.M. and slept until 9:30 this morning.
Received your Thursday letter yesterday. Ophelia is certainly Spanish looking isn't she? It was a nice snapshot. Don't worry darling – the snapshot will remain with the letter and we'll put it in an album when we get organized.
Mrs. Wallet was fixing my breakfast this morning and when I went over to get a glass of water she suddenly said out of a clear sky, "Gee, I'm going to miss you." And I asked, "Why, what's going to happen to make you miss me?" "You're going to get married and then we won't1 see you around so much." It was very touching.
Mother and Dad should be returning from their Mid West pilgrimage this afternoon. They've had so much riding that they'll more than likely stand up and eat off the mantel for the next month.
I'm goin up and see your folks tomorrow night and possibly will see Bernie and Al this afternoon.
Al Owen hasn't called up as yet and if he does, he'll still meet me when and where I said. I still won't go traipsing around Northern Jersey at that time in the morning to pick up people , I'd only do that for you. Well darling let me be the first to congratulate you on your finishing school. All I can say is that our children are going to be aufully fortunate to receive the benefit of such a varied education.
The car is functioning very well these days and seems to be in rare shape for the trip. I'm just aching in the worst way possible to be off on Friday morning.
The twin bed discussion from all indications seems to be well settled. I hope we settle everything else as thoroughly and agreeably2.
Darling you're nice. It just wouldn't do to terminate our correspondence without having one more go at a favorite argument. You're nice because you are a darn good sport and because you live and think clean. Also because you have a nice family. You look nice. You act nice. In fact, everything about you is nice. I love you so much I'm just going to have the time of my life being with you the rest of our lives. I can see an awful lot of fun ahead of both of us. We work with each other and you are without a doubt the best friend I've ever had or ever will have. So many husbands and wives are unfortunate in that they are only lovers and not friends with each other. They aren't friends because they don't trust each other nor do they cooperate. We're going to be friends always because what you do I want to do and what I do I'd like to have you doin git with me. That's why I want to have you play golf with me because golf is a game and should be to keep us together and not apart. The same goes for other things. Don't you agree with me? We're going to be daytime marriage as well as a nighttime marriage.
So, darling, with only five days to go – I'm just twiddling a couple of thumbs waiting. I hope you're having a beautiful Sunday up there as we are here. Au Revoir dearest, I love you and am
Just yours always, too,
"Dutch"
1 I want to note that Elvin always wrote "wont" which is not acceptable, and so I have always added the contraction form "won't" and in "will not".
2 I think they actually did go with the double beds. I don't really know much about it, but I was talking to my Aunt Lynn today, and she noted that "Yes, those double beds were the talk"